Property Dispute Lawyers
Navigating a property dispute is no simple matter. But with the right team on your side, it's significantly easier. The professionals at ADVIILAW command two decades of combined experience serving the Brisbane area, providing legal advice and answers to clients all over Queensland.
Our solicitors understand the needs of clients on a personal level. At ADVIILAW, we are honoured to have provided comprehensive, practical and cost-effective legal counsel for more than two decades — addressing needs both inside and outside the courtroom.
We keep clients in control of their property dispute with sound advice and practical legal counsel, all uniquely designed around personal needs.
Contact us to discuss your matter today.
Your business needs a property lawyer in Brisbane
Property law in Brisbane can be a legal minefield. Navigating complicated documentation and creating airtight contracts can be both stressful and time-consuming. You need seasoned, veteran advice from a professional with your needs in mind, including the property lawyers at ADVIILAW.
At any given moment, you may be required to traverse the complicated and often tricky legal processes of:
Proactive legal counsel for neighbourhood disputes

Easement and Covenant disputes

Managing assistance for retaining wall disputes

Representation for boundary encroachment litigation

Dividing fence disputes

Commercial lease and retail shop lease disputes

Body Corporate disputes

Property Contractual disputes

Mediating disputes regarding commercial property and leases

Show Cause Notices and Enforcement Notices

Domestic Building Contract disputes

Land compensation claims

Commercial property buying and selling

Drafting development and off-plan contracts

Property conveyancing services

Reviewing contracts and commercial documentation before development

Creating easements, covenants, and important property contracts

Asset protection for property development

Advice related to legal structures

Renting or leasing commercial buildings or storefronts
Avoid unnecessary mistakes and costly legal errors by partnering with a law firm that services clients in Brisbane, Gold Coast and South East Queensland. Learn more about ADVIILAW's property dispute solutions by booking an initial consultation with our expert lawyers.
What our property dispute lawyers in Brisbane can do for you
ADVIILAW is proud to serve the business properties of Brisbane across all aspects of property dispute law. With years of experience helping professionals understand Australia's legal complexities, we go above and beyond to be a true advocate for our clients.
We currently assist clients with the following property law services:
Resolving property disputes with clear and informative guidance from trained legal professionals

Developing binding contracts for property leasing and renting on a commercial scale

Reviewing construction contracts before breaking ground on a new commercial or residential project

Resolving commercial and residential building and lease disputes

Negotiating pre- and post-sale activities for the acquisition of Brisbane commercial property

Representing yourself and your business in a court of law or in front of a Tribunal
Get connected with trained commercial lease solicitors in Queensland. Contact ADVIILAW today to learn more.
Choose ADVIILAW for managing property law in Brisbane
Brisbane's leading commercial property owners choose to partner with the team at ADVIILAW for expert property law advice. Our boutique law firm is always available to assist, affording practical advice and actionable next steps.
Access robust legal counsel with hands-on experience by booking a phone call with our office at your convenience. We would be honoured to serve you well.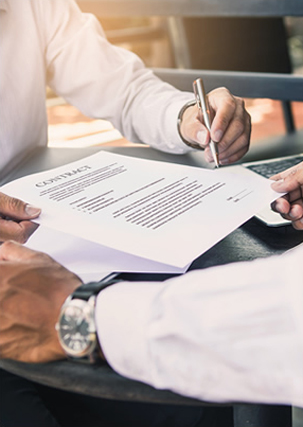 Latest Articles
ASIC Reference Checking and Information Sharing Protocol – A Mandatory Screening Process Targeting Financial Advisors and Mortgage Brokers

As a consequence of the Royal Commission into Misconduct in the Banking, Superannuation and Financial Services Industry, from 1 October 2021, licensees must comply, as an obligation under their licence, with the ASIC Corporations and Credit (Reference Checking and Information Sharing Protocol) Instrument 2021/429 (the "ASIC Reference Checking Protocol").

more …

Queensland Procurement Contracts for Software, Information and Communications Technology (ICT)

The Queensland Information Technology Contracting (QITC) framework is the basis for the procurement of all software, information and communications technology products and/or services by the Queensland Government.

The objective for the Queensland Government was to implement a common contractual framework, with standardised terms and conditions, for the procurement of all software, information and

more …

Court Litigation and Dispute Resolution

The Courts and Tribunals exist to do justice between the parties. There are times where you have exhausted all your reasonable attempts to amicably resolve a dispute and nothing else, it seems, will work other than the intervention of the Court (to issue Orders awarding damages, injunctions and other relief measures against the defendant). The

more …